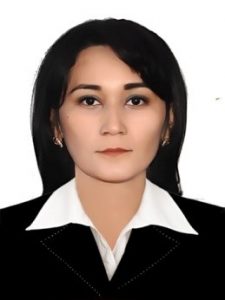 Assistant of the Department of Internal Diseases 2.
Tel: +998935974612
E mail: mirhaydarova1987@mail.uz
---
Education:
2004-2011 – student of the Tashkent Medical Academy
2011-2014 – Master of Endocrinology of the Tashkent Medical Academy
Work experience:
2015-2017. Endocrinologist in the 46th family polyclinic in the Sheikhantahur region of Tashkent
2018, Assistant of the Department of Internal Medicine No. 2 of the Tashkent Medical Academy
The main areas of practice:
Improving the tactics of conservative treatment of patients with endocrine diseases.
The main directions of scientific activity:
Secondary immune status in patients with type 2 diabetes mellitus
---
The main scientific works for the last 5 years:
Articles and theses:
Қандли диабет 2 типли беморларда диабетик нефропатия ва кардиал бузилишларнинг ўзаро боғлиқлиги. Доктор ахборотномаси.2013 №4 Стр 14-17
2.Нефропротективное действие индафона ретарда у больных сахарным диабетом типа 2. Терапевтический вестник Узбекистана. Стр 84-87. Выпуск №2.2013
3.Сhoice of antihypertensive therapy in patients with diabetic nephropathy at the stage of microalbuminuria. Young scientist day.2014, April.271-272.