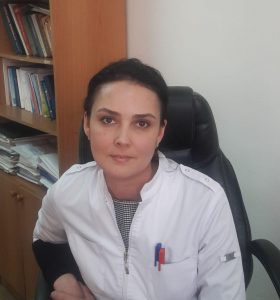 Assistant of the Department of Internal diseases-2
Tel: +998909924333
E-mail: nasiba4333@gmail.com
Training:
– – 2004-011-TMA bachelor's degree
– 20012-2015-master's degree in endocrinology on the basis of TMA.
Place of work:
2011-2012-VOP in SP-25 Uch-tepinsky district
2018-assistant at the Department of Internal diseases – 2 VOLUMES
Scientific direction:
Aspects of carbohydrate metabolism in individuals after metabolic surgery.
Published research papers (last 5 years)
Articles:
1. "Experience in the use of glutathione in diabetic neuropathy in patients with type 2 diabetes" Nazari VA clinic journals #3 2019 64-66 concrete
2. "Features of the course of diabetes mellitus in HIV-infected patients" – Bulletin of the Tashkent medical Academy 2019 №1 149-152 bet
3. "EFFECTIVENESS OF GASTRIC BACTERIA SURGERY IN THE TREATMENT OF CARBOHYDRATE METABOLISM DISORDERS ASSOCIATED WITH OBESITY". Journal of biomimetry, biomaterials and biomedical engineering, 2020 volume 45, 4 p.